At-Home Rehabilitation Therapy For Seniors: Everything You Need To Know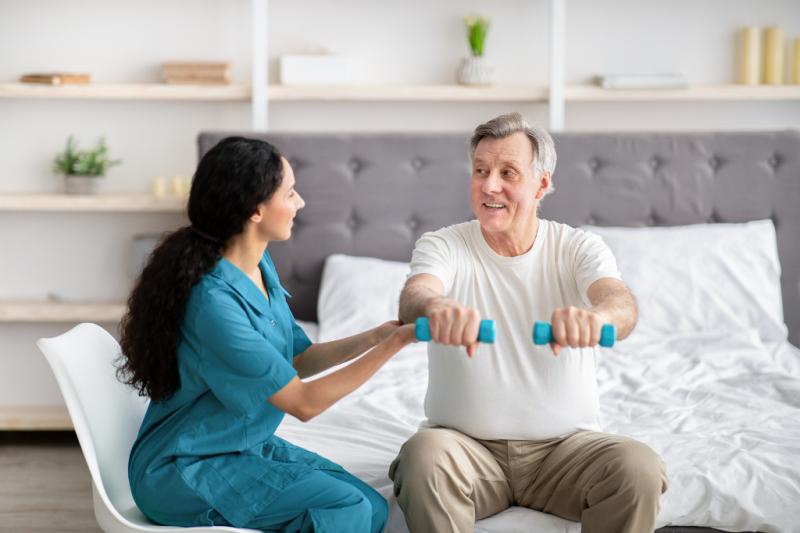 Aging is natural and comes with a set of changes in the body. As your senior loved ones age, their bodies will likely have limited motion range, less flexibility, and strength, more stiffening up, and an overall drop in their endurance.
A weakened immune system exposes them to various health concerns like heart disease, respiratory diseases, gastritis, osteoporosis, or arthritis may severely impact the body, increasing pain.
And with your busy schedule and lack of professional training, you may not offer much help. However, an effective method to help your senior loved ones would be through at-home rehabilitation therapy. If this sounds interesting, below is everything you need to know about at-home rehabilitation therapy.
What Is At-Home Rehabilitation Therapy?
Rehabilitation therapy is a medical treatment that focuses on restoring and enhancing functional abilities and improving one's quality of life. Rehabilitation therapy is a great way to help your loved one recover from an illness or injury. It is done through physical therapy, which involves massage, exercise, and heat treatment.
Home rehabilitation therapy is where the hospital comes to you instead of taking your loved one to the hospital for clinic appointments. At-home rehabilitation therapy includes having occupational therapists, like the ones from Homenursingwithheart.com, go and treat your loved ones from the comfort of their house.
Why Hire An At-Home Therapist?
A physical therapist is professionally trained to assist patients with physical needs. You should hire a home therapist for your seniors because you probably don't have time to take them to the hospital for checkups and regular physical therapy sessions. Time is precious, and having a therapist come to your home is an excellent way to save time.
Other than that, your senior may reside far from you, and to ensure they get their sessions done, a home therapist is a perfect choice for such a situation. It guarantees no missed appointments, so you can expect better outcomes and a quicker recovery. Also, constant moving and traveling put your patient at risk for a complicated injury like the spine. To prevent complications, a home rehabilitation therapist becomes the go-to choice.
What Kind Of Care Is Offered?
Senior at-home rehabilitation therapy has all the services you'd get in an inpatient facility and makes them specific to an older adult's needs. At-home rehabilitation offers the three core rehab therapy types:
Physical therapy: This therapy focuses on improving flexibility, strengthening the body, and giving the affected part of the body a chance to recover. Physical therapy helps seniors move again after a fall or adapt to hip replacements. A physical therapist designs exercise programs and strength training treatments to restore the motion range of your loved one.
Occupational therapy: This therapy is crucial if your senior is recovering from a stroke, injury, or illness. It enables your senior loved one to participate in everyday activities like eating, showering, and dressing. Also, it helps with the early stages of memory loss.
Speech therapy: Your senior needs speech therapy if they had a stroke. This post-stroke treatment regimen helps your seniors rebuild their brain pathways that control speech. Also, if your loved one has swallowing and other health problems, they can use it.
These therapies help ensure your loved one returns to their everyday life as soon as possible.
How To Choose The Right Home Rehabilitation Therapy
Not all home rehabilitation centers are the same. Therefore, you must go through a list and pick which works best for your senior. The following are some tips you should consider when choosing the seniors rehab:
Physically visit the center: When choosing the right option for your loved one, physically visit the center to find out how their at-home program works. Speak with the manager and form your own opinion of the hospital. Look at their tools, if they're adequate, the facility's cleanliness, check how busy their schedule is, and find their consistency.
Read their online reviews: A standard rehab center has an online website you can access. It always has a reviews section you need to look at. It'll give you a clear picture and unfiltered truth of the typical customer experiences. Avoid a center with two stars and below, as it implies most clients leave with a bad taste in their mouths.
Find out what they focus on: Depending on the issue your loved one has, select a rehab center that offers the care as an at-home service. Some rehab centers focus on long-term nursing with a mix of all operations, while another focuses more on post-surgical recovery.
Look at the cost: Money is always something to look at. When choosing an at-home rehabilitation center, choose one that gives the services at a good and reasonable price within your budget. Avoid those centers with too low prices because that means low service quality, and too expensive ones may not be worth it.
The facility you select should be one you're comfortable delegating the duty to handle your senior when you aren't at home without constantly worrying and trying to reach them over the phone to know how your loved one is faring.
How Do At-Home Rehabs Work?
At-home rehabs are just like a loved one's routine visit to the physical clinic, except now you have the doctors coming to your home with the treatment equipment. All you need to do is register with a rehab clinic that offers at-home services. They'll guide you through creating a schedule on when they should come and within what periods.
The prices will be slightly higher than the ones you pay for physical clinic checkups. However, the benefits and efficiency surpass these extra charges. Your senior will recover faster with the at-home rehab because they're mentally happy in their comfort zone. Hospitals can be sickening at times and slow down the healing process.
How Does At-Home Rehabilitation Therapy Help Seniors Stick To Their Programs?
To achieve the optimal results of the physical therapy regimen, your loved one needs to stick to the program. A great way to ensure this is through in-home rehabilitation, which helps in the following ways:
They provide reminders: Physical therapy sessions happen several days a week, and with in-person sessions, your loved one can easily skip some appointments. However, at-home visits always take place; no days are missed, reducing recovery time.
Closely monitor recovery: Physical therapy can be tedious for seniors, especially recovering from other illnesses. At-home rehabilitation ensures they can find a balance between the therapy sessions and performing the exercises given.
Reduce hospital readmission risk: Hospital readmission is a common concern for seniors in physical therapy. The constant movement during transport to the hospital without the help of a professional leads to injury. At-home rehabilitation minimizes their movement and ensures no readmission.
Offer encouragement: Instead of giving up on their daily clinic visits, your loved one can stick to their treatment with the encouragement of the constantly available therapist who doesn't let them give up.
What Conditions Do At-Home Rehabilitation Help Manage?
At-home rehabilitation helps your senior patient manage various conditions and ailments. Some of these conditions include the following:
Reduced mobility
After-surgery procedures such as joint replacements
Avoiding surgery
Need for better balance
Chronic aches
Musculoskeletal pain
Stroke or paralysis recovery
Fractures
Multiple sclerosis
Sprains
Broken bones
Ligaments or muscle injury
Chronic pains
Arthritis
Depending on what your loved one suffers from, the at-home therapy services will tailor and customize their treatment to help them reach their recovery goals. At-home physical therapy helps reduce symptoms such as aches and pains, allowing your relative to move better and freely.
The Benefits Of At-Home Rehabilitation
No transportation is required: With in-home rehabilitation, your senior doesn't need to worry about arranging for transportation or unexpected events like traffic.
Peace at home: Dealing with the unfamiliar, crowded, and noisy hospital environment can strain the recovery of your loved one. At-home therapy allows seniors to exercise in the comfort and quiet of their homes.
Personalized care: At-home therapists have fewer patients, hence giving more personalized care. They can learn more about your loved one and find ways to deliver treatment effectively.
Fast recovery: The personalized care and stress-free home environment help the patient recover quickly compared to in-person treatment.
Disadvantages Of At-Home Rehab
Despite the many benefits, at-home rehabilitation has the following disadvantages:
High cost: The at-home therapy sessions typically cost more than outpatient or inpatient therapy.
Difficult for insurance to cover: Most insurance companies may refuse to pay the extra charges of at-home rehabilitation. You may need to work with your loved ones' doctors to explain why they should pay.
Less focus and intensity: At-home therapists may fail to carry large therapy equipment, making the sessions lack intensive exercise.
Less support: Your loved one may be lonely when at home doing the exercises alone compared to the hospital where they have the company of other senior citizens.
Conclusion
At-home rehabilitation therapy is an excellent way to deliver any physical therapy for your elderly loved ones. Physical therapy is essential for seniors to help them manage their illness, improve their lifestyle and maintain their health. With the details above on at-home rehabilitation and the immense benefits, you should choose it if your loved one is ailing.